Images

Details

Prices

Location

Favourite
Tokyo Bankers Club, Tokyo
15/F, Tokyo Bankers Club Building, 1-3-1 Marunouchi, Chiyoda-ku, Tokyo, 100-0005, Japan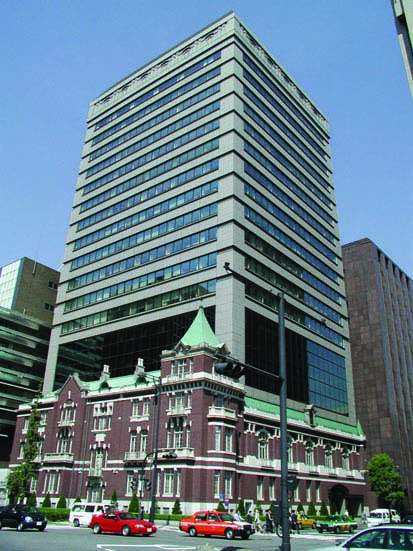 Local Amenities & Businesses
Tokyo Bankers Club is located in Chiyoda-ku, Tokyo overlooking the majestic grounds of the Imperial Palace. This Centre is located above the Otemachi Subway Station and is an easy three-minute walk to Tokyo Station enabling easy access to all of Japan. This centre meets today's demands for a professional office environment with greater functionality, aesthetic appeal and comfort.
The impressive new Grade A building prides itself on its wide range of features and flexibility of space. The office boasts sweeping views over the city, complimented by beautiful surrounding areas. It also features a full range of services and facilities including advanced technology and IT systems, CCTV, 24/7 access and reception services. At such a reputable location, your company is positioned to succeed.
Situated at the centre of Tokyo's premium financial district, Otemachi; our neighbours include not only Japan's leading banks and financial institutions, but also the Imperial Palace. The site is also within walking distance of a wide range of hotels and shops.
Tokyo Bankers Club provides the perfect business presence for your company in Tokyo, ideal for advancing your business, both within Japan and around the world.
Features


Prestigioius Location

Traditional Business Area

5 Minute Walk to Central Stations

Fast Secure Internet Access

Professional and Helpful Support staff

Centre Services


32 offices varying in size from 1 to 7 persons

Maximum centre capacity: 110 workstations

3 meeting and boardrooms accommodating up to 12 persons

Café & lounge

24/7 access and security

Executive standard modular furniture and seating

Panoramic views overlooking the Imperial Palace

Under-floor trunking for maximum layout flexibility

Voice and CAT 5 cabling data networking infrastructure

Car parking (monthly in the basement of the building)

Services & Prices for this Location
Choose at least one service!
Office Location & Directions
The Tokyo Bankers Club building on Marunouchi, Chiyoda-ku, Tokyo overlooks the majestic grounds of the Imperial Palace. The centre is located at the heart of Tokyo's premium financial district, directly above the Otemachi Subway Station.
Please fix the following errors: