This spring, keep your eye on specific business gadgets that will change the way you do business. If you run your own business or have great responsibility at your job, you know exactly how hectic everything can be for you and how little time you have to do it all in. There's just so much to keep track of, so many things to do, and a seemingly endless series of tasks to oversee. For all of this and more, you need the right business gadgets to help you stay on top of things and turn in a better performance on the job. Here are the 3 business gadgets to watch for this spring.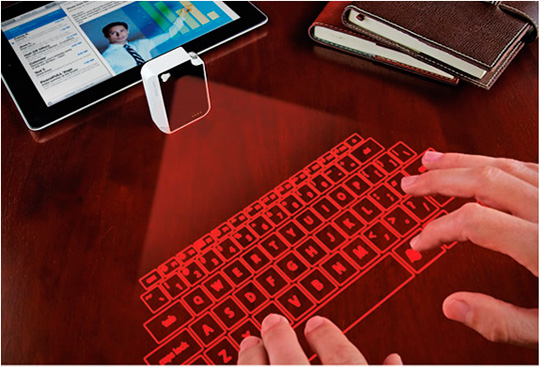 Watch for Infrared Keyboards
Yes, you read that right: infrared keyboards. Another name for infrared keyboards is projection keyboards, and you just have to see these in action to really wrap your head around how they work. A tiny box gets positioned close to your PC, and a laser keyboard is projected against the flat surface found in front of the box. If you press its keys with your fingers - just as you would with any regular keyboard - the device will register the key input. This business gadget has the potential to revolutionize the way that you think about keyboarding.
Watch for HD Media Routers
HD media routers can be put to great use in an interconnected office environment. These days, everything's interconnected at work, so HD media routers are just the ticket. If you incorporate an HD capable router, for example, you could make sure that transfer speeds stay high. As a result, your whole office system will not be negatively impacted by a few people who heavily use the system. HD media routers also reduce the chances of the system bogging down, as can be the case with shared folders that produce lagging speeds and emails with big attachments that impede the entire office network.
Watch for So-Called "Phablets"
Ever heard of "phablets?" Basically, the word "phablets" is a portmanteau of the words phone and tablet. Since phones can also function as tablets, these "phablets" can empower workers to spend their time on presentations or additional office tasks from basically anywhere. If you combine these "phablets" with a 4G LTE service carrier, for example, you'll find out that there's literally no place from which you can't work! The Blackberry days are over and done with, as changing phones to a more well-equipped platform encourages your company to expand and innovation to rise. This spring, these three business gadgets are the ones that you should be watching out for. If you're sick and tired of the same, mundane gadgets, you'll not be disappointed with the business gadgets on this list. Sure, they will take a little bit of getting used to, but what new gadgets don't? As these gadgets get more and more popular in the workplace, you will find yourself asking, "How did I ever get on without them?"