WHAT IS A SERVICED OFFICE
SERVICED OFFICE VERSUS...
HOW TO CHOOSE A SERVICED OFFICE LOCATION?
SERVICED OFFICE IN LONDON
A Serviced office space is a cost-effective, practical and flexible property solution that is proving increasingly popular with a variety of business types across the globe.
Finding a traditional office lease can be a complex, time consuming and costly task. Serviced offices (or flexible workspaces, as they are also commonly known) enable businesses to establish a presence in any city quickly and with nominal upfront costs.
The serviced office market is one of the fastest growing in the property sector today. The UK is home to over 6,000 of flexible workspaces and counting, while London contains over 14 million square feet of flexible workspace - making it one of the largest markets in the world.
What is a Serviced Office?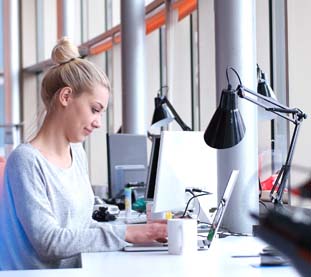 A serviced office is a fully furnished, ready-to-use office that is rented by the occupier on a pay-as-you-go basis. A serviced office building is managed by an operator and is typically split into a number of floors or offices that are rented by multiple business tenants.
As well as desk space, occupiers get access to the facilities required to run a business successfully, including reception support, access to meeting rooms, kitchen and breakout areas, printing services, events and networking opportunities.
Unlike a traditional office where the tenant signs a "lease", the occupier of a serviced office signs an "agreement". Agreements are simpler, shorter and there's often more room for negotiation. There are usually no hidden costs, which makes it easier to budget.
Occasionally, services such as meeting room usage or internet will be charged separately. You can often rent a serviced office on a monthly rolling basis or sign up for six months to a year at a time if you'd like more security.
You can sometimes sign for a longer term (for example, year) if you know you're likely to want to stay.
Unlike a traditional office, agreements are flexible, allowing you to upsize, downsize or move out at relatively short notice. Short tenancies are ideal for company owners who want to minimise risk or those who are looking for a strategic move during lease negotiations.
The floor plan of a serviced office building is made up of some or all of the following:
Private partitioned offices for SMEs
Entire floors for larger companies
Coworking space accommodating freelancers and small teams
Meeting rooms and boardrooms
Shared breakout space, such as a business lounge
Shared WC, kitchen and printing areas
A gym, library, yoga studio, wellness room and/or sleeping pod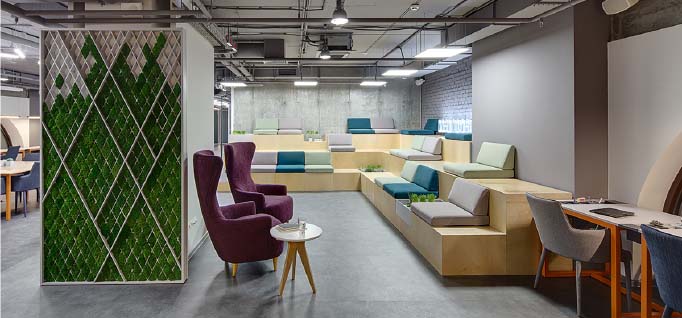 Key Terms and Definitions
The serviced office industry is growing and evolving at a rapid pace and so is the lexicon used to describe its various features and solutions. Let's take a look at a few key terms.
Flexible workspace is often used as a catch all term to describe offices with flexible contractual terms. Serviced offices, coworking spaces and managed offices can all be described as flexible workspace solutions. (Think of these entities as individuals that are part of the same family.)
A coworking space is an open plan office that is shared by multiple people, typically freelancers, entrepreneurs and very small teams that don't require privacy and want to keep expenses to a minimum. Many serviced offices buildings also contain a coworking space.
Managed offices offer occupiers a similar level of flexibility as a serviced office but they are designed for larger companies that want to be able to brand their space and have a bit more long-term security. They are also referred to as "bespoke" office solutions.
The majority of managed office agreements last for a minimum of 1-3 years, however shorter terms are also available. More established businesses might be able to negotiate a longer contractual term to ensure stability and security.
What's Included in a Serviced Office Licence Agreement?
Serviced offices are all-inclusive office solutions that are ready to move into. Office operators are responsible for the management and maintenance of the property. The fee includes desk space and the common amenities businesses need to operate well, such as meeting rooms, internet and a reception manager to greet and direct visitors.
All the services and facilities included in your package should be clearly stated in your licence agreement. As every serviced office operator is different, don't make any assumptions or you might be in for a surprise when you receive your invoice!
Serviced offices are priced either on a per desk basis or a flat fee for the room. Let's take a look at what typical services and facilities you can expect to benefit from.
Of course, one of the main things the monthly fee covers is the office itself.
As well as the actual square footage, this usually includes furnishings, i.e. desks, chairs and storage. Some operators might provide a bespoke fit out for your company as part of the price or for an additional cost. Others may let you bring your own furnishings with you.
Lighting and heating is often included in the price of a serviced office, as well as regular office cleaning.
Meeting spaces are usually offered on a pay-as-you-go basis, but some centres include meeting room usage as part of the overall package. You can book a meeting room at reception or using your operator's app.
These are usually covered by the rent. However some operators will charge a separate reduced fee and others might cap your usage, leaving you to cover any excess.
The majority of serviced office centres have a manager and receptionist present. The former is responsible for the building's operations and the latter for meeting and greeting occupiers' clients and providing customer service and assistance to everyone in the centre.
Tea, coffee, biscuits, fruit - many operators keep their offices stocked with the essentials throughout the day to keep occupiers fuelled and happy. Others also offer catering for meetings and events at an additional cost.
In-house networking and industry events provide occupiers with the opportunity to meet, learn and even collaborate on projects together.
A leased office, otherwise known as a conventional or traditional office, is let to a business tenant by its landlord for a certain period of time - typically between three to five years. A deposit is required, the tenant is responsible for its fit out and no services are included.
In other words, the rent usually covers the cost of the floor space only.
Time Versus Cost
If managed efficiently, moving into a serviced office can be a speedy experience. A serviced workspace will be fitted and furnished prior to you moving in, and IT infrastructure should be in place on your first day, enabling you to get to work straight away.
Depending on when the previous tenants move out and other factors such as cleaning and maintenance, you could potentially move in just days after signing the agreement.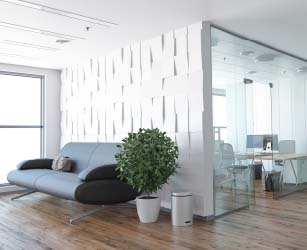 Leased offices on the other hand can take much longer to find, fit out and furnish. The whole process can take many months. Office fit out company, Oktra, recommends companies begin their search for a new office lease 18 months before the date they want to move in.
Because fit out and services are included, the monthly cost of a serviced office is usually higher. However, the upfront costs involved in preparing a lease can be significant, balancing it out. You'll also be required to contribute to buildings insurance and pay a deposit, and may have to pay a service charge on top of your rent.
Autonomy versus Usability
A good serviced office is a well-oiled machine; desks, Wi-Fi and storage space are all in order and the building manager is on hand to solve any issues. Serviced office operators, i.e. the companies that run serviced spaces, are experts in the field and know what works and what doesn't.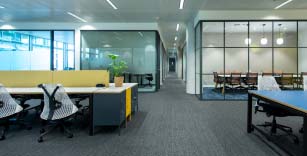 Because they have to appeal to a wide range of businesses while maintaining their own brand identity, a serviced office will usually have a uniform interior design running throughout. That said, you might be able to negotiate different furnishings or decor with your operator.
With an office lease, on the other hand, you have complete control over the "look" of the space as well as its atmosphere. So, if you want complete control over the brand, design and culture of your workplace, a lease might be a more suitable option for you.
Flexibility versus Commitment
You can rent a workspace in a serviced office space for a matter of months or even weeks, in some cases. It's common to have a one to three month notice period, which significantly minimises the risk of you having to pay for an office you don't need.
However, bear in mind that this means the operator can also ask you to leave at short notice.
A lease requires more commitment and is for a fixed period of time (usually three to five years), which is why it's important to be able to accurately forecast your growth. A commercial property lease typically finishes on its end date unless you include a clause to end it earlier. More information can be found on gov.co.uk .
Which Business Types use Serviced Offices?
A decade or so ago serviced offices were the domain of small businesses and startups. Following the global recession in the noughties, smaller businesses were drawn to the flexibility of serviced offices. More recently, large corporations have started using them too.
Serviced offices are also sometimes used as a temporary workspace by brands waiting for their office lease to be ready for them to move into.
Global businesses or those looking to expand to new markets can minimise their risk by opting for serviced locations. Some serviced office operators manage multiple locations globally, so it's possible to stay with the same brand.
In the face of uncertainty, it can be difficult for even large established companies to predict profit margins, and the flexible nature of serviced offices is what makes them an attractive solution.
Furthermore, as remote working becomes the norm, many companies no longer require a permanent office space for their team. Serviced offices can accommodate fluctuating a workforce more easily than a lease.
Serviced workspaces provide small to medium sized enterprises with access to the same facilities and opportunities as their larger competitors, such as access to meeting rooms, the use of business technology and the chance to source new business through networking. But as these facilities are shared with other occupiers, they don't have to pay for them upfront.
It can be tricky for startups to predict where they'll be from one month to the next. A flexible solution makes sense for new businesses that want to minimise risk, have access to business services and be in a place that encourages networking and collaboration.
Entrepreneurs & Freelancers
Solopreneurs might want to rent a one or two person office in a serviced office, or rent a hotdesk in the building's coworking space (if it has one). The benefits include:
Reduced loneliness
Increased productivity and wellbeing
Better work-life balance
Opportunities for collaboration
However, depending on the individual's business needs, it might make more sense to get a virtual office, coworking membership or even just work from home if they don't require a business address or physical office space.
Pros and Cons of Using a Serviced Office
As popular as they are, serviced offices aren't going to be suitable for every business and there are other options out there that might be more convenient, such as a virtual office, managed solution or, indeed, a lease.
Here's an overview of the main pros and cons associated with renting flexibly, designed to help you decide whether or not a serviced office is right for you.
Pros of Using a Serviced Office:
Minimal upfront costs
A serviced office deposit usually equates to one or two months' rent, if rented for longer than three months. As previously mentioned, serviced workspaces are furnished and fitted prior to move in, so you don't need to worry about buying desks or installing internet.
Ready to move into
You and your team should be able to hit the ground running as soon as you move in.
Building and community managers handle everything from cleaning to ordering tea and coffee, leaving you to focus solely on the success of your business.
Short term contracts
Serviced offices provide business owners with the breathing space to figure out a long-term property strategy. For others, a rolling contract makes perfect sense as their workforce is likely to fluctuate or they want to keep their options open.
Professional environment
One of the biggest draws is the access to facilities and services you might not be able to afford on your own, such as the use of high quality printers to state-of-the-art Audio-Visual technology.
Serviced offices are professionally presented and maintained which can help you to create a good impression on the clients you invite to the space.
Networking opportunities
One benefit that sometimes gets overlooked is the opportunity to connect with others. And not just the other businesses that occupy the same building - visitors, guest speakers, suppliers... the opportunities for forging new partnerships can be endless in a serviced workspace.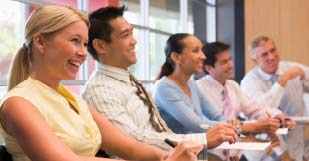 Cons of Using a Serviced Office:
Less personalisation
If you require a completely bespoke office solution, a serviced office might not tick all the boxes. Due to their flexibility, serviced offices need to be able to accommodate new tenants quickly, therefore their design needs to be fairly generic and suit all tastes.
Less long-term security
Licence agreements provide less long-term security than leases. Therefore, serviced office operators could ask you to leave or move you to another part of the building at short notice.
(Although as long as you're a good occupier this is unlikely: the serviced office market is becoming increasingly competitive and operators need a good reputation to compete.)
Sharing facilities
While sharing facilities and communal areas is beneficial when it comes to socialising and networking, it's not for everyone. If you don't want to share a kitchen or a breakout space, serviced offices might not be the best option.
That said, you can always opt for a managed office, which is a sort of middle ground between a serviced office and a lease. With a managed office, you benefit from flexible terms while having control over the design and fit out.
Higher monthly fee
While a serviced office's monthly rent is generally higher than that of a traditional lease, you are not tied into a lengthy contract for office space you have to furnish and maintain yourself. However, some businesses see a lease as an investment and would rather spend the money upfront to get their office exactly how they want it.
It's also important to note that the rising competition in the flexible office market is beginning to drive rental prices down, particularly in large cities like London and Manchester.
To avoid any surprise fees, ask your operator for a complete list of all the charges that are included in your monthly payment and anything that you'll be charged separately before signing an agreement.
With so many options out there today, it can be hard to know where to start. Thankfully, there are a number of free resources and services out there to help you find a serviced office that fits as seamlessly as possible with your business' requirements.
Of course, you can conduct your own research into different serviced office operators and locations online. You might also want to consider using a free serviced office broker.
Serviced office brokers have a good understanding of the industry and can help you compare options in your chosen location. They will also schedule viewings for you and may also be able to negotiate contractual terms on your behalf.
Whichever way you decide to search, it's important to consider the following aspects. If you do decide to use a free office broker, they will ask you to outline your basic requirements in relation to each of these points.
Your address says a lot about your business and can have a significant impact on client perception. Ideally, you'll want an office in a prestigious location, such as a city centre, that's easy for both customers and employees to get to.
It seems obvious, but you'll need to figure how roughly how much you're willing to spend because your budget could determine where you can afford to rent. Prices vary across the UK, with London being the most expensive. Just you an idea, offices in central Manchester cost around £300 per person per month and Bristol offices are priced at £200 a month per person.
The cost will also depend on which services are included.
Think about what you actually need from your office space. Lean startups might only need the minimum, such as a receptionist and access to meeting rooms.
On the other hand, businesses looking to attract talent might want to rent a serviced office with all mod cons, including:
Concierge services e.g. transport and catering
Social and networking events
Wellbeing initiatives and yoga
Thought leader-led sessions
No two flexible workspaces are the same, and just because your current office has a one month notice period doesn't mean the next will. Always be sure to read the terms of your contract thoroughly before signing to safeguard against paying for space you don't need.
As serviced office experts, we aim to provide a real-world approach to finding a serviced office; however if you have any specific questions that aren't covered in this serviced office guide, don't hesitate to contact us and we'll happily help you out.
London is the epicentre of Europe's serviced office scene. You'll find a number of workspaces across the length and breadth of the capital. Zone 1 is home to most of them, but there's a wide selection available in Zone 2 and beyond too.
The location you choose will ultimately depend on your budget and industry.
For example, many businesses in the entertainment industry are drawn to Soho, because much of the UK's film, television and post-production industry is based there.
There's a community-feel amongst the businesses based there, with the various companies hiring and rehiring each other's employees.
City of London is popular with financial services companies
Shoreditch, Old Street and King's Cross are popular with tech startups
Hackney is popular with creative startups and freelancers
West End locations are popular with luxury and high end property businesses
Startups.co.uk has produced a useful guide detailing the best places to cowork in London. It takes into consideration number of offices, desk price, transport links and internet speed. It ranks King's Cross as the best overall, owing to its 16 public transport lines and affordability.
Checklist for Moving into your Serviced Office
Prior to
moving in
People often say that moving home is one of life's most stress-inducing events. For business owners, the prospect of moving office and relocating staff can be just as daunting. However, with a strategic approach and lots of preparation, it can be easier than you think.
We've put together a checklist to help you navigate the process.
1
Create an inventory of everything you'll need to take with you when you move office and lists of what you'll need to give away or purchase.
2
Allocate specific roles to different members of your team; involving other people will help keep everyone informed and lighten the burden on you.
3
Check IT and furnishings will be in place when you move in and arrange for any additional items of furniture to be delivered.
4
Notify all staff and stakeholders of your new contact details and how they can reach your new office via train, car, bus or on foot.
5
Use the move as an opportunity to dispose of any unwanted items or documents.
6
Let suppliers know that you're moving at least three weeks in advance and inform them of your moving date.
7
Liaise with removal firms to get quotes, book it in and organise anything you'll need on the day such as cardboard boxes.
8
Organise mail redirection and forwarding numbers if you're unable to keep your current phone number.
9
Take photos of your office in its existing condition when you move in and make a note of any damages.
10
Ensure everyone is aware of the move, including unions, regulators, parent companies, board members, all employees, contractors and freelancers.
After moving in
In short, moving your business into a serviced office can provide you with a cost effective solution to your property needs, while enabling you to avoid the potential constraints of a traditional lease.
Some businesses move into a serviced office for a short period to "see how it goes" and never move out because they find the combination of services and facilities to be good value. Others move into a managed or leased property once they become established and want their own, completely bespoke workspace.
1
Speak to the office operator if you have any concerns or questions
2
Introduce yourself and your team to other occupiers within the building.
3
Ensure you're fully insured - most serviced office operators will manage buildings insurance, but it's up to you to make sure your contents are covered.
4
Explore the local area to find out what there is to enjoy on your lunch break or outside of working hours!
Next steps
If you think a serviced office could be the right solution for your business, take a look at some of the available options in your chosen location(s) today. Alternatively, you can find out more about serviced offices by getting in touch with us as we would be happy to guide you through your search.